Blue Lagoon and the Reykjanes Peninsula
Duration:

7-8 hours
Season:

All year
The Reykjanes Peninsula is a UNESCO Global Geopark located only minutes from Reykjavik. The peninsula is the only place in the world where the Mid-Atlantic Ridge is visible above sea level. You'll visit not only the Blue Lagoon, Iceland's most famous attraction, but numerous other gorgeous and interesting sights, many of them based around volcanic and geothermal activity.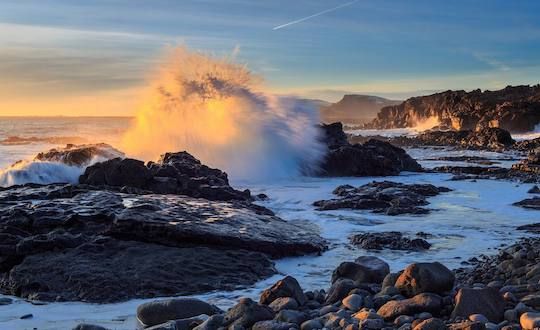 Tour itinerary
Your guide will pick you up at your hotel in Reykjavik before you start your journey.
First stop is the Lake Kleifarvatn, the largest of Reykjanes peninsula and the third largest of southern Iceland. Great place for photographers because the volcanic surroundings of the lake make it unique and beautiful. The story says that a monster in the shape of a worm and size of a medium sized whale lives in the lake. It is your chance to watch it ;-)
Lake Kleifarvatn
Krísuvík Geothermal area, Hot springs and Mud pots
Lava fields
Bird cliffs
The Bridge beetween 2 continents
Reykjanesviti Lighthouse
Gunnuhver hotspring area
and the Blue Lagoon
This tour runs all year round with scheduled departures every Friday and Monday
with minimum 2 Persons. Minimum 4 persons on other days.
Daily departure around 8:30am. Free hotel pickup in the Reykjavik area.
Would you like a private tour? Contact us.
Superjeep (1-6 persons) ISK 175,000
Monster Truck (1-10 persons) ISK 269,000
It is recommended to bring the following clothing and equipment:
Warm clothes such as fleece or wool clothing
Waterproof clothing and windbreaker clothes (on a pair of pants and jacket)
Waterproof hiking shoes
Sunglasses
A camera

You travel comfortably for a day in a 4x4 super jeep with a limited number of persons (2-6 persons). You can stop whenever you want to take photos and to discuss with your driver guide, who will share with you his insight into a large variety of subjects related to Iceland, such as: the customs, the nature, the geology, the history, the current events- or even facts about the 4x4 vehicles.
Services included
Trips in a Super Jeep with our English-speaking driver and guide (capacity of 2-6 persons)
Entrance to the Blue Lagoon is included in tour price
Services not included
Flights to and from Iceland
Meals and drinks at the restaurant (if not differently mentioned)
Personal travelling insurance
Ready to live your dream?
The encounter of a lifetime awaits. For nature-lovers who don't follow the beaten path, this is the ideal way to explore the marvels of Iceland. We can't wait to help you discover all that Iceland has to offer. Start planning your adventure today.
Book now this private tour
"Iceland is unlike any other place in the world. It's a land with a diverse and thrilling landscape that truly reveals the force and beauty of nature."