Golden Circle and the Langjokull Glacier
Duration:

9-10 hours
Season:

All year
If you have just one day at your disposal to visit Iceland, the discovery of the "Golden Circle" is a must.
This trip will allow you to discover the Thingvellir national park, representing both a historical and a geological site of the utmost importance, the Gullfoss spectacular waterfall, and the atypical site of Geysir, world-widely known for its hot springs and the wide range of geothermal phenomena. Then, we take the route leading to the Langjokull glacier. If you want, optionally, you can drive a snowmobile on the glacier for an hour, accompanied by a guide. Later, on our way back to Reykavik, we pass by the beautiful Faxi waterfall and the Hveragerdi village.
Experience many of Iceland's natural gems in a magnificent day tour – Do it in style and comfort in our Super Jeeps.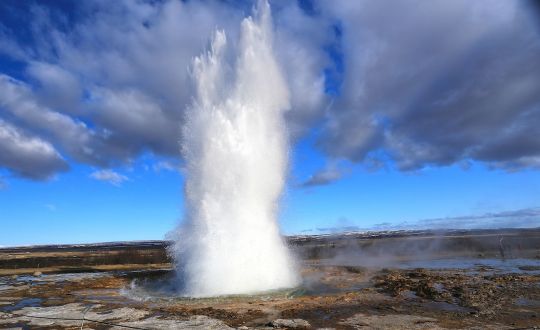 Tour itinerary
We leave Reykjavik and follow the route to Thingvellir, ranked as UNESCO World Heritage Site since 2004. It was there where the parliament was established in 1930 and where Iceland's independence was proclaimed in 1944. So it is easy to understand why it is so important for the Icelanders.
Thingvellir National Park
Old Viking parliament ('Alþingi')
Tectonic plate boundaries
UNESCO World Heritage Site
Geysir
The original Geyser « Strokkur » which all geysers are named after
Gullfoss
Langjokull Glacier
Iceland's second-largest glacier
Optional: Snowmobile tour on the glacier
Fun off-road adventure
Driving on a glacier
Driving through a river
Faxi fall
This tour runs all year round with a minimum of 2 passengers every day.
Daily departure around 8:30 am. Free hotel pickup in the Reykjavik area.
Would you like a private tour? Contact us.
Superjeep (1-6 persons) ISK 175,000
Monster Truck (1-10 persons) ISK 269,000
Lunch and breaks
For lunch, you can pack a picnic. If not, you can find a café in Gullfoss and in Geysir, where we stop to have lunch and for a refreshing break in the afternoon.
Snowmobiles
The snowmobile tours must be booked in advance.
Overalls, gloves, shoe covers, and helmets are provided.
Weather conditions rapidly change in Iceland. Thus, anticipatively take with you warm and waterproof clothing all over the year. Snowmobiling on Langjökull glacier is optional and is offered at an additional price. Please note that the age limit for snowmobile tours is 6 years old. The age limit to operate a snowmobile is 18 years old, and a fully valid driver's license is needed as well. Children and those who don't hold a driver's license are welcome to ride as passengers. This activity is subject to weather conditions
It is recommended to bring the following clothing and equipment:
Warm clothes such as fleece or wool clothing
Waterproof clothing and windbreaker clothes (on a pair of pants and jacket)
Waterproof hiking shoes
Sunglasses
A camera
Our driver-guides have extensive knowledge about Iceland and will do their best to willingly adapt to your particular interest whether in nature, geology, current news-or 4x4 facts. We call it "conversational guidance".
You travel comfortably for a day in a 4x4 super jeep with a limited number of persons (2-6 persons). You can stop whenever you want to take photos and to discuss with your driver-guide, who will share with you his insight into a large variety of subjects related to Iceland, such as the customs, the nature, the geology, the history, the current events- or even facts about the 4x4 vehicles.
Services included
Trips in a Super Jeep with our English-speaking driver and guide (capacity of 2-6 persons)
Services not included
Flights to and from Iceland
Meals and drinks at the restaurant (if not differently mentioned)
Personal traveling insurance
The rental of a snowmobile for 1or 2 persons
Ready to live your dream?
The encounter of a lifetime awaits. For nature-lovers who don't follow the beaten path, this is the ideal way to explore the marvels of Iceland. We can't wait to help you discover all that Iceland has to offer. Start planning your adventure today.
Book now this private tour
"Iceland is unlike any other place in the world. It's a land with a diverse and thrilling landscape that truly reveals the force and beauty of nature."