Langjokull Glacier Adventure
Duration:

8-9 hours
Season:

All year
Price: $ 434 /

ISK 56,900

per adult $ 217 /

ISK 28,450

per child (0-11) Entrance to ice cave included in price
This trip in the Western part of Reykjavík represents an overview of the wide range of landscapes that Iceland has to offer. Hot springs, glaciers, lava caves, arid deserts, mountains, tectonic plates, waterfalls, fjords, and much more, the appointments for the off-road adventures in order to intrude into the essence of Iceland.
At the Langjokull glacier, you'll get to explore the glacier environment, enjoy a view out of this world and go into the glacier to experience the glacier's beauty from the inside!
Experience many of Iceland's natural gems in a magnificent day tour – Do it in style and comfort in our Super Jeeps.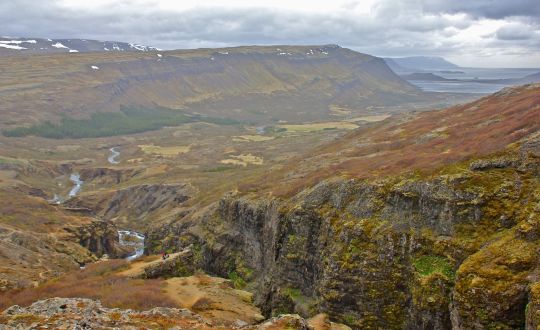 Tour itinerary
We leave Reykjavik and follow the route to Thingvellir, ranked as UNESCO World Heritage Site since 2004. It was there were the parliament was established in 1930 and where the Iceland's independence was proclaimed in 1944.
While travelling through the route leading to the Oxararfos waterfall, you have the opportunity to see the Almannagja fault, which is the result of the daily tectonic movements between the European and American plates. A stunningly beautiful view over the plain is opening from the park's information center.
Thingvellir National Park
Old Viking parliament ('Alþingi')
Tectonic plate boundaries
UNESCO World Heritage Site
Langjokull Glacier
View over glacier
Fun drive on the glacier
Ice cave "Into the Glacier"
Hraunfossar (Lava Waterfalls)
Barnafoss (Children's Waterfall)
Waterfall in Grimsá, home of the trolls
Deildartunguhver, Iceland's largest hot spring
Hvalfjörður (Whale Fjord)
This tour runs all year round.
Minimum 2 passengers on Tue, Thu, Sat
Minimum 4 passengers on Mon, Wed, Fri, Sun
Free pick-up from your hotel in the capital area begins at 8:30.
Entrance to ice cave (ISK 19.500. per person) is included in tour price
Would you like a private tour? Contact us!
Superjeep (1-6 persons) ISK 175,000
Monster Truck (1-10 persons) ISK 269,000
Ice cave entrance (ISK 19,500 per person) is not included in the private tour
Lunch
The easiest idea would be to take a picnic with you. In summer time, there are many opportunities on our route to supply yourselves with food (restaurants, boutiques). In winter time, this is more difficult but still possible. As you leave Reykjavík, talk to the guide who will find a solution regarding this matter.
The trips on the glacier in Super-Jeep
Our trips depend on the snow and on the weather conditions. When the snow is hard and compressed, we can ascend quite high on the glacier. When it is smooth, we remain on the lower parts. In summer and at the beginning of fall, the glacier's inferior part is very often frozen and cracked. Thus, it is safer to stay closer to the glacier's margins. We take no risk, safety being always our priority.
It is recommended to bring the following clothing and equipment:
Warm clothes such as fleece or wool clothing
Waterproof clothing and windbreaker clothes (on a pair of pants and jacket)
Waterproof hiking shoes
Sunglasses
A camera
Our driver-guides have extensive knowledge about Iceland and will do their best to willingly adapt to your particular interest whether in nature, geology, current news-or 4x4 facts. We call it "conversational guidance".
You travel comfortably for a day in a 4x4 super jeep with a limited number of persons (2-6 persons). You can stop whenever you want to take photos and to discuss with your driver guide, who will share with you his insight into a large variety of subjects related to Iceland, such as: the customs, the nature, the geology, the history, the current events- or even facts about the 4x4 vehicles.
Services included
Trip in a Super Jeep with our English-speaking driver and guide (capacity of 2-6 persons)
Services not included
Flights to and from Iceland
Meals and drinks at the restaurant (if not differently mentioned)
Personal travelling insurance
Ready to live your dream?
The encounter of a lifetime awaits. For nature-lovers who don't follow the beaten path, this is the ideal way to explore the marvels of Iceland. We can't wait to help you discover all that Iceland has to offer. Start planning your adventure today.
Book now this private tour
"Iceland is unlike any other place in the world. It's a land with a diverse and thrilling landscape that truly reveals the force and beauty of nature."