Katla Ice Cave and the South Coast
Duration:

9-10 hours
Season:

All year
Join this incredible Super Jeep excursion and marvel at the unmatched beauty of the katla ice cave. These stunning formations only occur during the winter months in a few places in Iceland, so do not let this opportunity pass you by.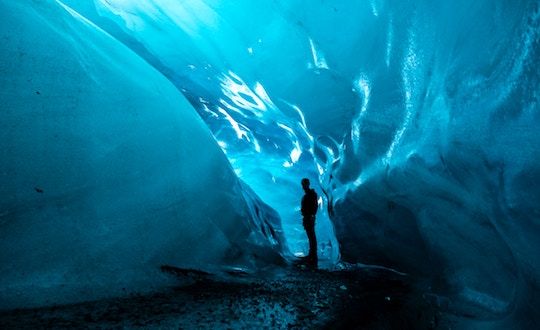 Tour Itinerary
The tour starts in Reykjavík and take you along the enchanting south coast. You will be passing charming little towns and rivers with mountains on one side and sea on the other before reaching Vík. The drive in our Super Jeeps is a true adventure and the landscape is truly astonishing with mountains and glaciers all around.
Scenic Super Jeep ride
View over Myrdalsjokull
Visiting Katla natural Ice Cave (Entrance price per persion ISK 19.900.- is included in tour price)
Epic landscapes
Expert info on the ice cave
Seljalandsfoss Waterfall
Skógafoss Waterfall
Black sand beaches
Bird cliffs
Eyjafjallajökull sights
Small coastal villages
Would you like a private tour? Contact us!
This tour runs all year with a
Minimum 2 passengers on Tue, Thu, Sat
Minimum 4 passengers on Mon, Wed, Fri, Sun
Daily departure at 8:30 A.M. Free pick-up from your hotel in Reykjavik.
Superjeep (1-6 persons) ISK 175,000,
Monster Truck (1-10 persons) ISK 269,000
Lunch and break
The easiest would be to take a picnic with you. In summer time, there are many opportunities on our route to supply yourselves with food (restaurants, boutiques). As you leave Reykjavík, talk to the guide who will find a solution regarding this matter.
We recommend to take with you the following:
Warm clothing of polar type or made of wool
Waterproof and windbreaking clothing (the trousers and jacket)
Waterproof footwear for walking
Sunglasses
A camera
Our driver-guides have extensive knowledge about Iceland and will do their best to willingly adapt to your particular interest whether in nature, geology, current news-or 4x4 facts. We call it "conversational guidance".
You travel comfortably for a day in a 4x4 super jeep with a limited number of persons (2-6 persons). You can stop whenever you want to take photos and to discuss with your driver guide, who will share with you his insight into a large variety of subjects related to Iceland, such as: the customs, the nature, the geology, the history, the current events- or even facts about the 4x4 vehicles.
Services included
Trips in a Super Jeep with our English-speaking driver and guide (capacity of 2-6 persons)
Katla Ice Cave (Entrance price per persion ISK 19.900.- is included in tour price)
Services not included
Flights to and from Iceland
Meals and drinks at the restaurant (if not differently mentioned)
Personal travelling insurance
Ready to live your dream?
The encounter of a lifetime awaits. For nature-lovers who don't follow the beaten path, this is the ideal way to explore the marvels of Iceland. We can't wait to help you discover all that Iceland has to offer. Start planning your adventure today.
Book now this private tour
"Iceland is unlike any other place in the world. It's a land with a diverse and thrilling landscape that truly reveals the force and beauty of nature."